Score your tennis matches with wireless buttons
and share online with live updates
Each player attaches a small wireless button to their shirt or wristband. When a point is won the player taps their button and the score gets calculated and displayed on the court side screen, on the club dashboard and on your website.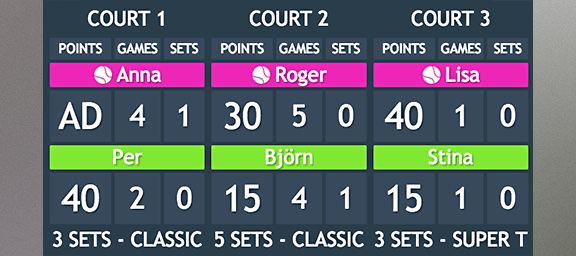 Dashboard
Display scores from several matches at once with our dashboard. Perfect for keeping your visitors up to date during tournaments.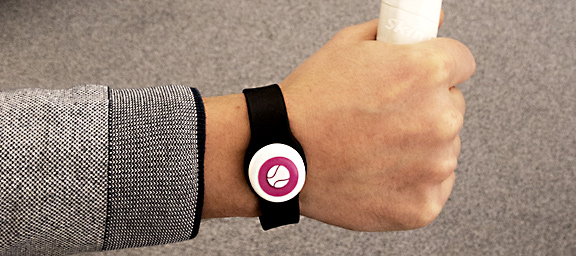 Player button
The button is wireless and very lightweight for easy use. When a point is won the player taps their button and the new score gets calculated.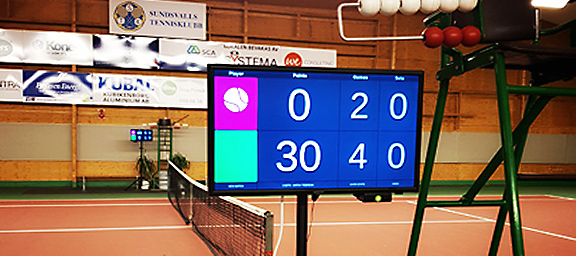 Court device
Never loose track of the score again! With our court side device it's easy for players and coaches to keep track of the current score and service order.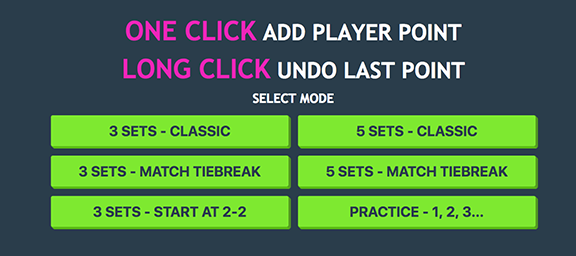 Match modes
Choose between a variety of match and practice modes. Missing a match mode? Just let us know and we will add more match settings.
Fast
Scores are updated in realtime when a player receives a point by tapping the button.
Player friendly
From the beginning it was our mission to build an incredibly user friendly product. Rest assured that any tennis player has the ability to use our system.
Live scores on your website
Just add our online dashboard widget to enable live score updates.
Statistics
Get match and player statistics during or after a completed match. Points played, points won, points won when serving, game points won, break points won etc.
Make money
Increase your booking revenue by letting your members rent the buttons for their leisure and practice matches.
Branded screens
Offer branded screens to your club sponsors. Your clients will be able to customize colors, logo and text.
Frequently Asked Questions
Can I undo a player point using the button?
Press and hold the button for 1 second to undo last point.
How many points can be undone?
You kan go back in the match history as far as you need.
How and when can I get access to the match statistics?
The match statistics can be viewed during or directly after a match on the court device screen.
A print friendly match report including the statistics is also available via our club dashboard.
Is any software installation required?
No. The court devices comes preinstalled and the online scoring features is hosted by us for easy access.
What is the button battery life?
We have optimized the battery life to last as long as possible. For most clubs it will last up to one year.
The button also has a replaceable battery. To change the battery, gently screw the upper housing of the button counter clockwise.
You'll then be able to lift the top off and replace the battery with a regular coin cell battery (CR2016).
What is included?
The system is sold as per court units. One unit includes two player buttons and one court display (28"). Online features for live scoring i sold seperatly.
Can we change the player names during tournaments?
Yes. The player names can be managed with our club admin tool from a desktop or mobile browser.
How do we add live scoring to our clubs website?
The dashboard is easily integrated to your clubs website by adding an iframe with your clubs live scoring URL. The URL is provided with the live score feature.
I'm missing a feature.
Smash n Tap is under active development. Contact us at info@notnot.se and we will work it out.